MSZ30 Injection Blow Molding Machine
---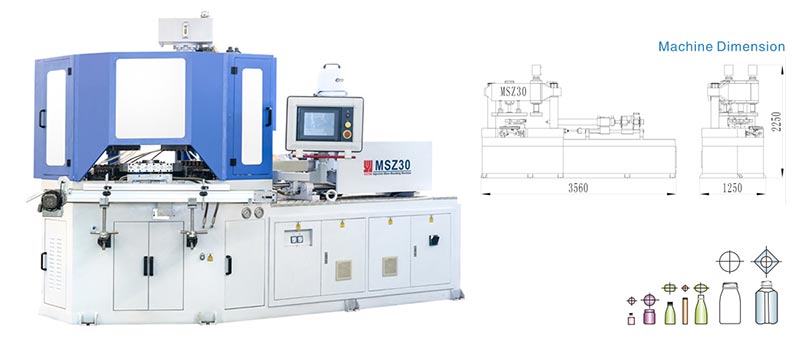 /// Techhnical Features:
---
Horizontal injection system, plasticing reliable and operation easy.
Single crossbeam style clamping system, easy for mould amounting
Varible delivery pump driving energy more saving
Big mould dimension, output higher than same level machine.
/// Optional:
---
Servo pump drive, 25%-45% energy saving is available.
In mold labeling solution, one stop procedure, save cost of labor and workshop, completely fitting and excellent appearance.
| | | | | | | | | | |
| --- | --- | --- | --- | --- | --- | --- | --- | --- | --- |
| No.Of cavities | 1 | 2 | 3 | 4 | 5 | 6 | 7 | 8 | 9 |
| Neck Diameter(mm) | 45 | 40 | 35 | 35 | 35 | 30 | 25 | 20 | 10 |
| Body Diameter | 100 | 55 | 50 | 48 | 45 | 40 | 35 | 25 | 20 |
| Max. Height(mm) | 180 | 160 | 140 | 120 | 100 | 80 | 70 | 50 | 40 |
| Max. Volume(ml) | 600 | 300 | 200 | 150 | 100 | 60 | 40 | 20 | 15 |
Injection system
Unit
MSZ30
Screw Diameter
mm
40 45
Screw L/D
23:1 23:1
Injection weight (HDPE)
g
190 241
Max.screw speed
rpm
10-225
Heating capacity
KW
8.3
Clamping & blowing system
Clamping force of injection
KN
292
Clamping force of blowing
KN
46.7
Max.Platen size(L×W)
mm
400×270
Min.Mold thickness(H)
mm
180
Heating capacity of mould
KW
3
Stripping system
Stripping stroke
mm
220
Dry cycle
sec
3.5
Driving system
Motor power
KW
15
Hydraulic pressure
Mpa
15
Product range
Suitable bottle range
ml
5-800
Max.bottle height
mm
≤190
Max.Dia.of bottle
mm
≤100
Others
Min.Air pressure
Mpa
1.0
Discharge rate of compressed air
m³/min
≥0.7
Water flowage
m³/h
3
Total rated power with mold heating
KW
26.3
Dimension(L×W×H)
M
3.56×1.25×2.25
Net weight
ton
4.0