MSZ95 Injection Blow Molding Machine
---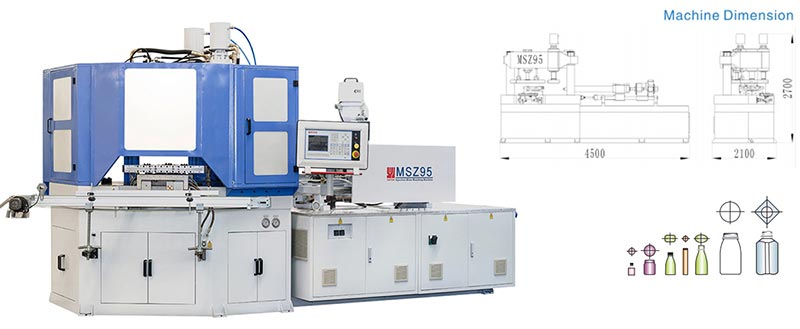 /// Techhnical Features:
Both perform and blow station use 3-cylinder clamping unit,mould open speed high,production capacity high.
Dual hydraulic system with servo pump drive,more precision control on clamping ,and energy saving more than 25%.
Horizontal injection design,plasticating reliable and operation easy.
Trigon beam make the structure strong and moving stable.
| | | | | | | | | |
| --- | --- | --- | --- | --- | --- | --- | --- | --- |
| No. of cavities | 6 | 8 | 10 | 12 | 14 | 16 | 18 | 20 |
| Neck Diameter(mm) | 45 | 40 | 35 | 35 | 30 | 25 | 25 | 20 |
| Body Diameter(mm) | 80 | 60 | 50 | 45 | 40 | 35 | 30 | 25 |
| Max. Height(mm) | 220 | 180 | 140 | 100 | 80 | 70 | 60 | 50 |
| Max. Volum(ml) | 1000 | 400 | 200 | 100 | 60 | 40 | 30 | 20 |
Injection system
Unit
MSZ95
Screw Diameter
mm
60
65
Screw L/D
L/D
23:1
23:1
Injection weight(HDPE)
g
535
625
Max.screw speed
rpm
10-235
Heating capacity
KW
12.6
Clamping system
Clamping force of injection
KN
931
Clamping force of blowing
KN
176
Max.Platen size(L*W)
mm
900×480
Min.Mold thickness(H)
mm
280
Heating capacity of mould
KW
8
Stripping system
Stripping stroke
mm
240
Dry cycle
sec
4
Driving system
Motor power
KW
45+5.5
Hydraulic pressure
Mpa
14
Product range
Suitable bottle range
ml
5-800
Max.bottle height
mm
≤220
Max.Dia.of bottle
mm
≤100
Others
Min.Air pressure
Mpa
1.0
Discharge rate of compressed air
M³/min
≥1
Water flowage
M³/h
6
Total rated power with mold heating
KW
71.1
Dimension(L*W*H)
M
4.5×2.1×2.7
Net weight
ton
12